Pendant of Falkor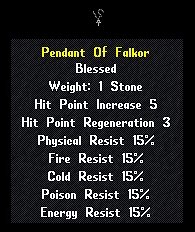 First seen as a 10th Anniversary gift, this pendant provides protection as well as regenerative bonuses. There's also a hidden ability: it will restore its wearer back to life upon their death. The pendant needs an hour to charge between uses.
It will remain around your neck after death and it is also blessed. They do bond to their owner.
The pendant cannot be equipped by human bio pets.